MRC Park Hills -R2 Certified Facility
Hard Drive Shredding Now Available
At Our Jefferson City Facility!
MRC Park Hills -R2 Certified Facility
Nationwide Certified Electronics Recycling
Through our dedicated network of Certified R2/RIOS vetted vendors and business partners, we offer our clients in Information Technology, Healthcare, and Manufacturing a competitive advantage by providing an Enterprise solution to end of life asset disposition while focusing on Environmental Corporate Responsibility, Liability, and Identity Theft issues. We offer fully customizable scalable solutions for Information Technology Asset Disposition (ITAD) and Medical & Lab Asset Disposition (MLAD) in full Compliance with all regulatory agencies to give our clients peace of mind in knowing their proprietary, sensitive data is being properly managed in compliance with R2/RIOS Certification utilizing a cost effective approach. Our processing facilities are Centrally located to accept material from all 48 contiguous states, and Canada.
What to Expect at MRC Electronics Recycling Events
Our friendly and trained staff will be ready to direct you through the event in an organized manner, and answer any questions you have.
We plan to have all of the man power needed to unload your vehicle of your electronics for proper recycling, so there is usually no need to exit the vehicle. Simply tell our staff what you have to drop off, and where it is located, pop the trunk open if needed, and we will take care of the rest!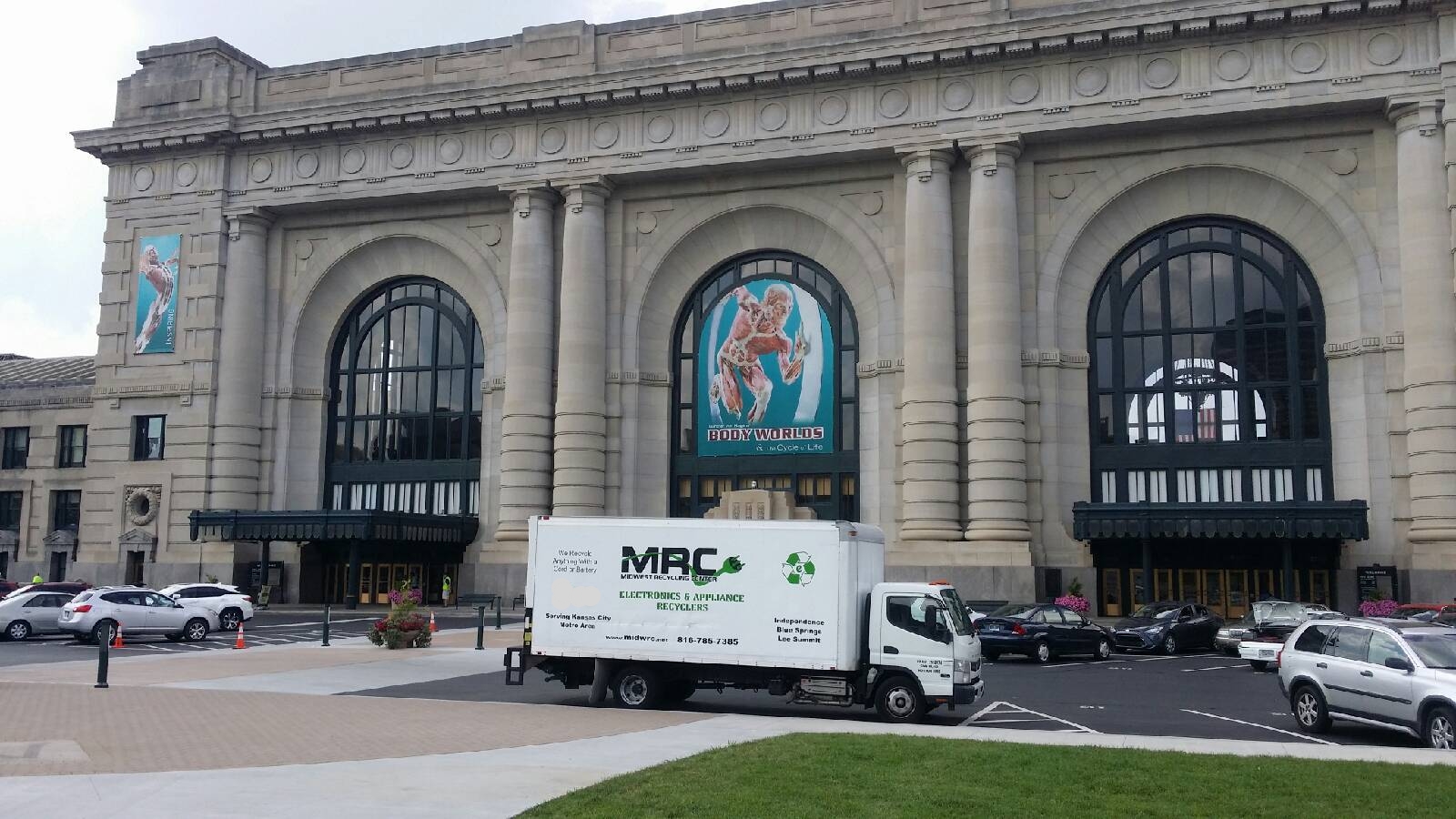 Business & Industrial Recycling
MRC can help your business recycle safely, responsibly, and affordably. Services such as recycling pickups, product destruction and recycling, medical & lab equipment recycling, restaurant equipment recycling, bulk electronics purchasing, data destruction, and recycle by mail can keep your business green, secure, and efficient.
Data Destruction & Shredding
MRC understands data destruction is of paramount importance to you. Our on-site hard drive shredding guarantees all information will never be recoverable from your end-of-life storage media. Protect your clients, protect your business, and have peace of mind. Shredded drives are 100% recycled at MRC's Park Hills R2 certified facility.
MRC has experienced staff in the medical and lab equipment industry. Our staff can assess your older or obsolete equipment and offer solutions to properly recycle that equipment. In many cases MRC will even pay for that equipment. With MRC you have the opportunity to turn a negative value sector of your business into a profit center.
Community Electronics Recycling
MRC is your premiere destination when it comes to community & residential recycling in Missouri, Illinois, and the surrounding areas. We can help you safely dispose of your electronics, computers, cell phones, and other equipment. MRC's facilities are conveniently located centrally in the United States, and staffed with friendly personnel that can help you with any of your recycling needs. In addition, we regularly hold community recycling events which are open to the public to drop off their unwanted electronics and appliances for recycling.
Electronics Recycling Locations
Upcoming Electronics Recycling Events